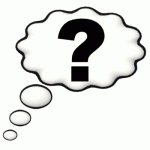 Some foolish Questions Nigerians Ask and Answers You Can Give Back
1. You just wake up from sleep person come ask you "you don wake?"
Ans: No oh, I come buy bread wey I go chop for dream.
2. When its raining and someone notice you going out yet they ask, are you going out in this rain?
Ans: "No! In the next one."
3. They see you coming out of the bathroom wet, yet they ask, "Did you just have a bath?
Ans: "No, i fell into the toilet bowl."
4. You're standing in front of the elevator on the ground floor going to your office, yet they ask, "Are you going up?"
Ans: "No, i'm waiting for my Office to come down and get me."
5. Someone calls you at 2am , waking you up and asks,"Are you sleeping?
Ans: "No! I'm picking beans."
6. Your boyfriend comes home with a bunch of flowers, and you still ask, "Are those flowers?
Ans: "No baby, they're carrots!"
7. You are in the toilet and lock the door and someone knocks, asking, "Is anyone there?"
Ans: "No! Na sh!t LOCK DOOR…." Mtcheeeeeeew!!
8. You are in a queue at the cinema to buy ticket, a friend saw you and asked, "What are you doing here?"
Ans: "I'm here to pay my school fees…" ODE!!
9. When they see you lying down with your eyes closed and they still ask, are you sleeping??
Ans: "No! Am practicing death"
10. U see me dey chop indomie come dey ask me, O boy, na indomie u dey chop so?
Ans: No ohhhh... Na fried rubber band mixed with thread.
11. I dey watch film… my guy enter come ask me "Guy na film u dey watch?
Ans: No naa... I dey discuss with Osuofia...
12. You see identical twins, you still dey ask 'na twins be dis'?
Ans: No bros, na Picmix.
13. Is this the internet
Drop your funny answers Below
Source: http://ezeudoyesamuel.xtgem.com/Blog/__xtblog_entry/11335219-ask-and-answers-you-can-give-back?__xtblog_blog_page=1&__xtblog_block_id=1#xt_blog